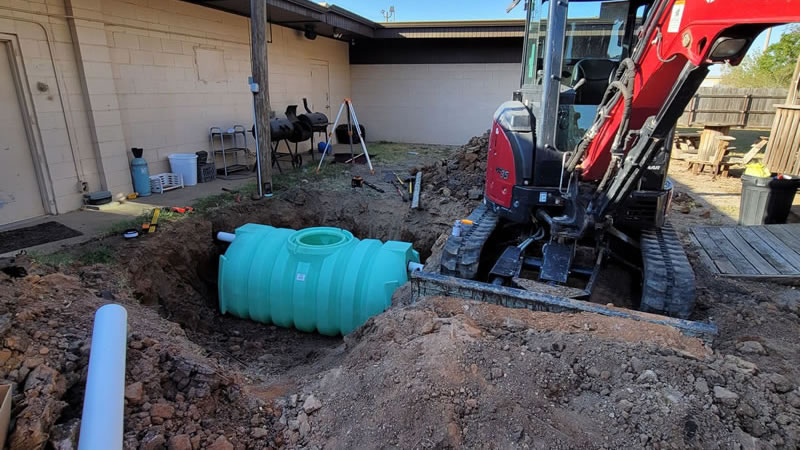 Do you need a septic tank installed as part of a new system or to replace a tank that has cracked, or is leaking?
New septic tank installation is a crucial step in ensuring the efficient and environmentally responsible disposal of wastewater for properties without access to municipal sewer systems. Whether it's for new construction or as a replacement for a failed tank, installing a septic tank requires careful planning, adherence to local regulations, and professional execution to provide a long-lasting and effective solution.
Caliber Septic Service is a Garber, Oklahoma based septic services company.  We specialize in the installation of complete septic systems including septic tanks.  Whether it's for a conventional septic system or an aerobic septic system we can help.  We also offer property owners the choice of installing a conventional septic drain field for your septic system or we can offer lagoon effluent disposal.
Lagoon effluent disposal systems are popular in rural areas or small communities where land availability is not a constraint, and centralized municipal sewer systems are not available. These systems can be a cost-effective and environmentally friendly option for wastewater treatment and disposal, provided they are properly designed, constructed, and maintained.
We are your septic tank specialists including the design, engineering, and installation of your complete septic system.  We are licensed, insured and all of our septic tank installations are state certified.  We guarantee the highest quality workmanship on your septic system and years of trouble free service so long as the maintenance requirements are met (and we can help with that too!).
What Size Of Septic Tank Do You Need?
Septic tank sizes can vary depending on factors such as the number of bedrooms in a house, the estimated daily wastewater flow, and local regulations. However, some common septic tank sizes include:
750-gallon tank: Typically used for small homes or properties with one to two bedrooms and a low daily wastewater flow.
1,000-gallon tank: Suitable for medium-sized homes with two to three bedrooms and moderate daily wastewater flow.
1,250-gallon tank: Often used for homes with three to four bedrooms and higher daily wastewater flow.
1,500-gallon tank: Generally recommended for homes with four to five bedrooms and even higher daily wastewater flow.
2,000-gallon tank or larger: Used for larger properties or commercial applications where daily wastewater flow is significantly higher.
It's important to note that these sizes are general guidelines, and the appropriate septic tank size for a specific property may vary depending on local regulations, soil conditions, and other factors.  In order to decide which tank size would be best for you we'll need to complete an on-site evaluation.
If you'd like to receive a quote to install a new septic tank or a new septic system please give us a call  (580) 548-7498 or fill out our contact form and we'll get right back to you.