Caliber Septic Services On The Web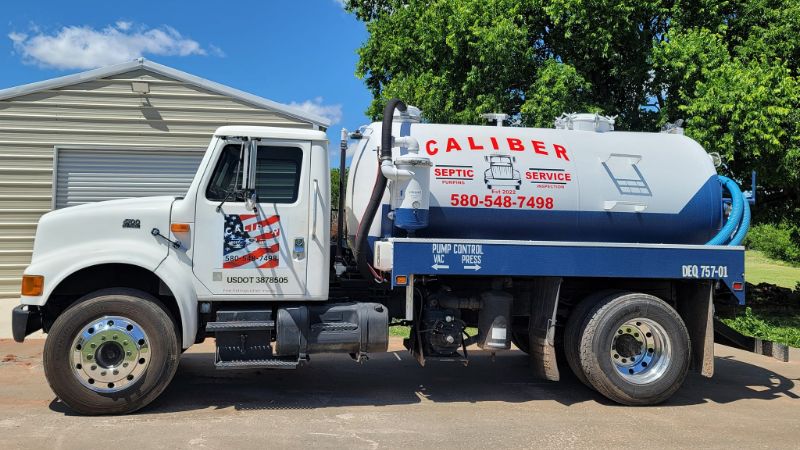 Caliber Septic Service is a trusted and reliable septic service provider in Garfield County, Oklahoma. With years of experience in the industry, our team is committed to offering the highest quality services to homeowners and businesses in the area. We pride ourselves on our expertise in septic system installation, maintenance, pumping, and repair, ensuring that your septic system functions at its best for the long term. As a local company, we are deeply invested in the well-being of our community and strive to exceed our clients' expectations at every opportunity.
We understand that a well-maintained septic system is crucial for the health and safety of your property, and our team of skilled technicians is dedicated to providing prompt, efficient, and professional services. From routine septic tank pumping to emergency repairs, Caliber Septic Services is equipped to handle all your septic needs. Our commitment to customer satisfaction, combined with our extensive knowledge and experience, has earned us a reputation as the go-to septic service provider in Garfield County, Oklahoma. Trust us to keep your septic system in optimal working condition, protecting your property and the environment.
https://yellow.place/en/caliber-septic-service-garber-ok-usa 
https://www.chamberofcommerce.com/united-states/oklahoma/garber/septic-system-service/2017610974-caliber-septic-service 
https://ezlocal.com/ok/garber/septic-systems-cleaning-and-pumping/0917439167 
https://www.brownbook.net/business/50976830/caliber-septic-service 
https://www.manta.com/c/m1rjkmj/caliber-septic-service 
https://propertyvendors.com/property-preservation/caliber-septic-service-56166 
https://www.webwiki.com/calibersepticservice.com 
https://www.zillow.com/profile/caliberseptic 
https://ebusinesspages.com/Caliber-Septic-Service_ei8mw.co 
https://us.enrollbusiness.com/BusinessProfile/5986108/Caliber%20Septic%20Service 
http://businesses.prospotlight.com/listing/caliber-septic-service.html 
https://www.a-zbusinessfinder.com/business-directory/Caliber-Septic-Service-Garber-Oklahoma-USA/33663659 
https://businesslistingplus.com/business-listings/caliber-septic-service.html 
https://www.nextbizthing.com/oklahoma/garber/construction-20-contractors/caliber-septic-service 
https://oklahoma.bizhwy.com/businesses.php?c=125 
https://www.2findlocal.com/b/14519123/caliber-septic-service-garber-oklahoma 
https://www.n49.com/biz/5073079/caliber-septic-service-ok-garber-17428-e-robertson-rd/ 
https://www.showmelocal.com/35350643-caliber-septic-service-garber 
http://www.servicelane.com/pro/3805-Caliber-Septic-Service 
https://www.servicebasket.com/services/caliber-septic-service-garber-ok/8380 
http://businesses.avidlocals.com/listing/caliber-septic-service.html 
https://www.finduslocal.com/local-business/oklahoma/garber/caliber-septic-service_17428-east-robertson-rd/ 
https://www.storeboard.com/calibersepticservice 
https://www.find-us-here.com/businesses/Caliber-Septic-Service-Garber-Oklahoma-USA/33664389 
https://ok.yalwa.com/ID_140249019/Caliber-Septic-Service.html 
https://www.handyguyz.com/professionals/home-services/plumbing-amp-heating/septic-tank-pumping-in-garber-ok-185467.html 
http://www.homeownerscircle.com/company-488412083/caliber-septic-service